A Variety of Logistics Services
We offer a range of services to help you coordinate logistics, including:
Freight Forwarding
We can provide a full range of shipping and distribution services, from coordinating paperwork and documentation to stocking inventory in our warehouses, tracking shipments, and coordinating deliveries. Our fleet is equipped with the latest technology so you can track your deliveries from start to finish.
Last-Mile/Final-Mile Delivery
One of the hardest parts of a logistics chain is final-mile delivery, but our extensive network of delivery vehicles and trained drivers can ensure that items get safely from shipping hubs to even the most remote locations throughout Colorado.
Same-Day & Next-Day Shipping Service
When time is of the essence, our same-day and next-day shipping capacity can ensure that your goods will arrive at the destination on time. From healthcare and pharmaceuticals to automobiles, financial companies, and laboratory companies, we provide quick shipments for all your needs.
Air Freight & Ground Freight
Shipping and distribution channels are more complex than ever, and we can help you coordinate everything from air transport to ground with TSA-certified drivers and a large network of operators and carriers.
Routed Deliveries
We can schedule a dedicated pick-up for products even when your business or location isn't on our normal routes, so you can avoid the hassle of having to bring items to our warehouse.
Distribution & Warehousing
Our network of regional warehouses is ideal for stocking products that need to be delivered quickly in the Rocky Mountain West region. We have space for you to store your items and can also provide distribution services to deliver them as needed.
Packaging & Palletizing
Our team can help with packaging and palletizing your products for easy shipment, so you only need to work with a single partner on all your delivery needs from warehouse storage to delivery.
Cross-Dock Logistics
We have full-service cross-dock facilities in Colorado and four other Rocky Mountain states, providing you with the ideal network for a just-in-time supply chain to quickly move your items.
Hot Shot & On-Demand Distribution
When you need to get a small part or a large item to a destination quickly, our hot shot and on-demand distribution services can help.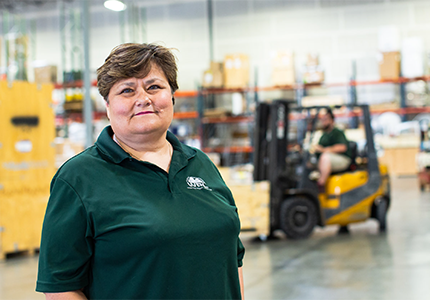 Commitment to Excellence
We have established a reputation with shippers all over the country for excellence. We have an unwavering commitment to provide exceptional customer service and to deliver your packages on time in a safe and reliable manner. It's no wonder companies of all sizes, from small local businesses to large Fortune 500 companies, trust us as their final-mile logistics partner in the Rocky Mountain region.
Contact Us for a Quote
Ready to get started? Contact Western Peaks Logistics today to learn more about the services we have available in Denver and throughout Colorado and to get a quote for your shipping, delivery, and logistics needs.